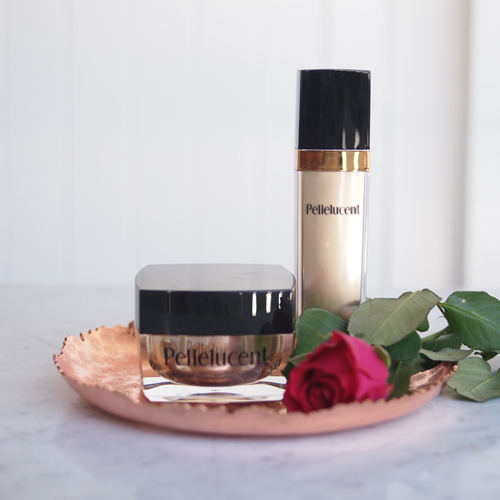 What is the Best Face Cream For You?
The best face cream for women is one that suits their skin. Pellelucent offers a facial cream that can be tailored to suit individual users, whatever their age, skin type or environment.
Age
Youthful skin might respond to a lighter facial cream. It is important that the cream does not clog the pores and feels light and fresh on the skin.
However, a lightweight lotion does not have to compromise on active ingredients. Pellelucent Lotion is still your best face cream, but in a feather-light version. Pellelucent Lotion contains the same powerful actives as the Cream, in the same proportions.
The best face cream for mature skin might have a richer texture while still being non-comedogenic. Mature skin can still be prone to break outs and irritations, which can be aging for the skin, so it is good to find a facial cream that will not antagonise your complexion. We feel that the best face creams for women understand the changing nature of our complexions.
Environment – climate
The best anti wrinkle cream for cold / dry climates might be a rich nourishing texture, containing protective and nourishing elements. It is important for the product to work as an active defense on the top layer of skin and also nourish from within.
In addition to its core European ingredients, Pellelucent contains potent anti-oxidants such as Green Tea, CoQ 10 and natural Vitamin E, to help combat the effects of the free-radicals that your skin is exposed to on a daily basis. Free-radicals from daily environmental factors such as sun exposure and pollution can initiate the deterioration of the skin's structural support and decrease the elasticity, resilience, and suppleness of skin. Antioxidants help prevent this damage by preventing free-radical molecules from interacting with other molecules, therefore stunting the negative chain reaction process.
One of our exciting native ingredients is a unique seaweed compound, sourced from some of the most pristine waters in the world off the southern Australian coast, that has definite skin-care benefits. It is an excellent humectant, drawing in moisture to the skin while at the same time creating a protective barrier on the surface of the skin. This compound works as an anti-inflammatory and helps to maintain healthy skin-cell activity.
Pellelucent also contains Kakadu Plum, a native Australian botanical that contains the highest concentration of Vitamin C of any known plant. Kakadu Plum is another powerful antioxidant, that helps to promote collagen production in the skin and which also acts as an anti-inflammatory.
Day Time / Night Time Use
Many customers use Pelllelucent Cream and Pellelucent Lotion in combination for day / night purposes. As Pellelucent products do not contain SPF you can use either overnight, or apply your preferred sunscreen over the product for daytime use.
Tailor your beauty routine
One of the great aspects of Pellelucent is that it allows you to tailor your beauty routine to suit your skin type and even adapt the routine to changes in your complexion that occur in reaction to other changes in your life.
As the products work on all areas of skin, from the general face area, to the throat and décolletage, to the delicate under-eye area you can use them in any combination: the Lotion as a day cream and the Cream for night; or use the Lotion on your general face area and the Cream as an under-eye product. We have many customers who report excellent results when using Pellelucent on their hands!
A Routine For the Busy Working Woman
No matter how effective your skincare product is, it needs to be a part of your everyday routine to have the greatest impact. The best face creams will only work if they are applied regularly. Pellelucent is not a range of products that require a complicated, time-consuming routine. You simply cleanse and apply the product. One container of Pellelucent Cream or Lotion can work on all areas of the skin, day and night. It's so easy!
Keep Your Beauty Routine Consistent, Even When Travelling!
The 30ml Pellelucent products are an excellent addition to your travel kit so can slip them into your cabin bags and keep your skin hydrated on long flights. This means that you can start your journey in a climate that requires a thicker, richer product and then be prepared for landing in a warm and humid environment without feeling that you have to sacrifice your best anti wrinkle cream.
Pellelucent is Easily Absorbed into the Skin
The best face creams are easily absorbed into the skin, so that active ingredients reach deep into the dermal layers and are not left behind on your pillow! Two important active ingredients in Pellelucent are Macadamia and Almond Oil. These fabulous elements are not only nurturing to the skin, but they are also excellent carriers, helping Pellelucent absorb quickly and effectively into the dermis and transport the ingredients to where they can impart the greatest benefit.
Our product is designed to be quickly absorbed into the skin without leaving a greasy residue. Customers have reported a noticeable lift to their skin and a post-application glow.
Price
Cost is a significant factor when choosing the right product for you. Pellelucent believes that you don't have to break the bank to achieve the best results for your skin and that the best face creams are not necessarily the most expensive.
While Pellelucent is definitely not a cheap, supermarket brand it is important to remember that you may only need one product – either the Cream or the Lotion – to meet most of your skincare needs. You won't be buying an expensive range of toners, serums and area-specific products.
When you feel it is time to move up from a basic skincare product, remember that Pellelucent's formulation calms and soothes the skin whilst addressing complexion issues associated with the ageing process, including redness, blotchy and uneven skin tone, fine lines and enlarged pores.
Our product is designed to be quickly absorbed into the skin without leaving a greasy residue. Customers have reported a noticeable lift to their skin and a post-application glow.