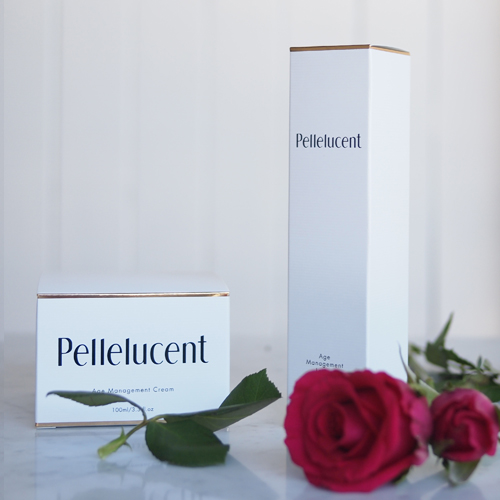 Pellelucent Presents New Anti Ageing Skin Care Products
Pellelucent is a new Australian company focusing on luxurious yet affordable anti ageing skin care products. Our Cream and Lotion is a unique balance between European advances in anti aging skin care and active ingredients sourced from traditional native Australian organic botanicals and marine extracts.
Pellelucent Origins
Pellellucent was founded after its Directors established the benefits of a unique European compound that could be combined with other active ingredients, to produce the very best in age-management skin-care.  Since then all our efforts have been directed to creating effective, affordable anti aging creams that are the basis of a comprehensive beauty regime.
Pellelucent Formulation
The formulation of Pellelucent is a finely-tuned balance of premium ingredients, with each major active ingredient present in sufficient quantities to achieve superb individual results while working in combination with the other ingredients to produce a sum that is even greater than its parts.
We have sourced the best active ingredients from Europe and Australia and made sure that each element compliments the others and adds to the whole.
We have also paid equal attention to the other background elements of the formulation, such as the preservatives, to make sure we are using high-quality low-irritant elements. Our formulation does not contain parabens or phthalates and is non-comedogenic and hypo-allergenic.
How Pellelucent Works
Pellelucent is a cosmeceutical containing an impressive eight active ingredients that address a wide range of anti aging skin care issues.
Firming and toning
Pellelucent is formulated around an exciting new French/German compound that gives an immediate boost to the complexion, targeting the appearance of fine lines and helping to combat uneven skin tone. This compound was initially developed for broader dermal applications, but Pellelucent has recognised and utilised its benefits in terms of anti ageing wrinkle cream.
This compound is clinically proven to rejuvenate skin and deliver results comparable to glycolic acid, without the irritation. Our compound helps to soften and refine rough, uneven skin, and reveal a younger, brighter appearance. This compound re-synchronizes the balance between mediators and receptors (In–vitro data) and optimizes the transmission of cellular "messages". Our compound increases the youthful appearance of the skin, decreases the appearance of pores and wrinkles, and makes skin feel distinctly softer, as if it had been "re-surfaced". It makes an exciting basis for an anti ageing face cream.
Hydrating and Moisturising
Pellelucent contains Macadamia and Almond Oil to keep the skin supple and moisturised. These oils manage to provide excellent moisturising properties, helping to keep the complexion smooth and supple, and these ingredients also act as excellent carrier-agents, transporting the rest of the product deep into the skin.
Our unique Tasmanian Kelp extract acts as a powerful humectant, locking moisture into the skin and acting as an on-going barrier against the elements.
We know that a good anti ageing cream needs to be able to work in the most extreme climates and Pellelucent anti aging creams have been developed to sooth the skin of Australian women living in one of the harshest climates in the world.  Customers who use our anti aging products have the option to choose either the classic Cream, which is fabulous for cold, dry conditions or our equally effective Lotion, which is perfect for warm and humid conditions. Both formulations are equally effective, containing the same eight active ingredients in the same quantities.
Nourishing
Pellelucent anti aging products incorporate a suite of powerful antioxidants including CoQ10, Green Tea and natural Vitamin E.
Pellelucent is at the fore-front of cosmeceuticals with Kakadu Plum skincare.
Kakadu Plum is a native Australian botanical that is also nature's most concentrated source of the standout anti-oxidant Vitamin C, and there are also significant antioxidants in our seaweed Undaria Pinnatifia.
Anti-oxidants help to address the damage caused by free radicals on the skin. This means that they help to deal with environmental factors such as UV rays, pollution and climactic changes by "mopping up" the damage.
While antioxidants are powerful as individual ingredients they work best when present in a group. Pellelucent anti ageing wrinkle cream contains a broad range of anti-oxidants.
Low-irritant
We know that irritants are a significant factor in the ageing process of the skin. Our skin is exposed to a wide range of irritants on a daily basis, such as wind, sun, pollution and exposure to chemicals.
Many people also suffer from skin-sensitivities that manifest in red, dry, flakey skin that is prone to out-breaks and rashes.
It is important to choose skincare that is kind to skin.
Pellelucent anti ageing face cream is hypo-allergenic, non-comedogenic and does not contain parabens or phthalates. It is made in Australia to international standards and is not tested on animals.
Our Singe Minded Obsession
Many cosmetic companies market age-management and anti-ageing products but relatively few see this as their primary area of focus.
We have spent years refining and developing a anti ageing Cream and Lotion. There is no range, no line-extensions. We have not produced a cleanser or a toner, or different products claiming to target different areas of the skin. We have simply produced an anti-ageing skin care product in Cream and Lotion formulations that works on all areas of the skin, from the general face area, to delicate throat and under-eye areas – our customers tell us it is even a fantastic hand cream!
Our single-minded obsession has produced what we think can be accurately described as Australia's first luxury anti-ageing skincare brand.